UK Farm Sdn Bhd
Provide visitors an authentic and memorable farm experience
UK Farm is situated in the southern state of Johor, Malaysia within the Kluang Modern Agriculture Project (Projek Pertanian Moden Kluang) under the auspices of the Ministry of Agriculture and Agro-Based Industry, Malaysia.
UK Farm has the reputation of being Malaysia's largest goat and sheep farm, with 100 acres of grazing land. It is a self-sufficient integrated farm practising the most modern techniques in goat and sheep rearing. We also have 20 acres of orchard with variety of fruits such as passion fruit, soursop, rambutan, durian and many more.
In UK Farm Agro Resort, you will find a cozy restaurant with natural interior, dominant with calm and warm colors. The restaurant could serve up to 300 persons at the same time. Working hours are from 9:00 AM to 8:00 PM.
We are ready to arrange you an unforgettable celebration, restaurant staff will take care about all the smallest details: decorate the hall, arrange musicians, agree the celebration menu with the customer, will make all kinds of world cuisine dishes.
Our Restaurant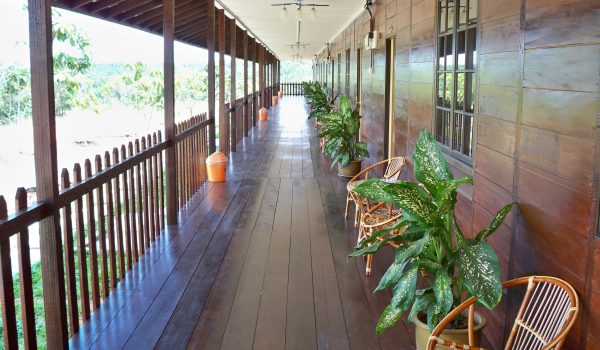 Start from
RM 140.00
/room
Chalet
The inspiration for our chalets came from the "Long House", a traditional house found in the Sarawak. Built on stilts and long corridors overlooking the vast green meadows and the grazing pastures, our intention is to gather people to stay close to one another and commune with each other.






Dormitory
* Only available for Students Package At the Moment
Our spacious wood and atap dormitory provides basic essential facilities such as open sleeping quarters, and bathrooms for large groups of people. There are 20 bathrooms and each dormitory can accommodate up to 250 beds. Targeting on low budget travelers, adventurous travelers and students, the dormitory is also suitable for school camps, training, workshops and anyone who wants to experience the life in the farm.